There are a surprising amount of different kinds of haircuts for men available at barber shops, but two of the most popular cuts right now are fades and tapers. For those unfamiliar with new and trendy haircuts, you may not know the difference between these two popular cuts.
If you want to make sure you get the right cut at your next hair appointment, it's key to understand what makes each of these different and unique. So that you can explain what you want for your look next time you're at the barber's, we're going to explain the difference between tapers and fades in detail.
Key Differences
So, what is the main difference between a fade and a taper?
The main difference right from the get-go is the length of the cut. Both can vary in length according to your preferences, but the way they are cut is different. A taper is more of a gradual change in length than a fade, is far less dramatic than a fade, and will normally leave longer hair on the sides and back of the head.
Fades, then, are typically much shorter on the sides and back than tapers and transition more dramatically to a longer length on top. It can be hard to know which kind of cut would better suit you, so we're going to go more in-depth on how you can know in a later section.
The Taper
Getting more into what makes a taper a taper specifically, it's a haircut that will leave more length on top of your head with much shorter hair on the sides and back. Your hair will be cut gradually shorter and shorter the closer it is to your neckline. This is eventually going to even out to give your hair a nice, neat cut.
Tapers are good for men who are looking for a little bit of wiggle room as far as styling goes. Because the hair on top of your head will be left longer, this gives you plenty of options and different ways to style it. It will also open up more styling choices as your hair grows out over time.
Next, let's get into the different kinds of tapers.
Low Tapers
Low tapers will start cutting into your hair just above the ear, giving you a clean look without having to cut it too short. This will also leave your scalp hidden by your hair if you're not too keen on exposing your scalp. Low tapers are a great everyday look.
High Tapers
A high taper, on the other hand, starts to get short a few inches above the ear. This look will give you more contrast than a low taper does and will offer you a neat modern look when styled.
Neckline Tapered
Apart from the rest of your hair, you can also get your neckline tapered or faded. If you go with a tapered neckline, you'll see that it looks most natural when it gets longer and has options to be either rounded or squared.
Skin Taper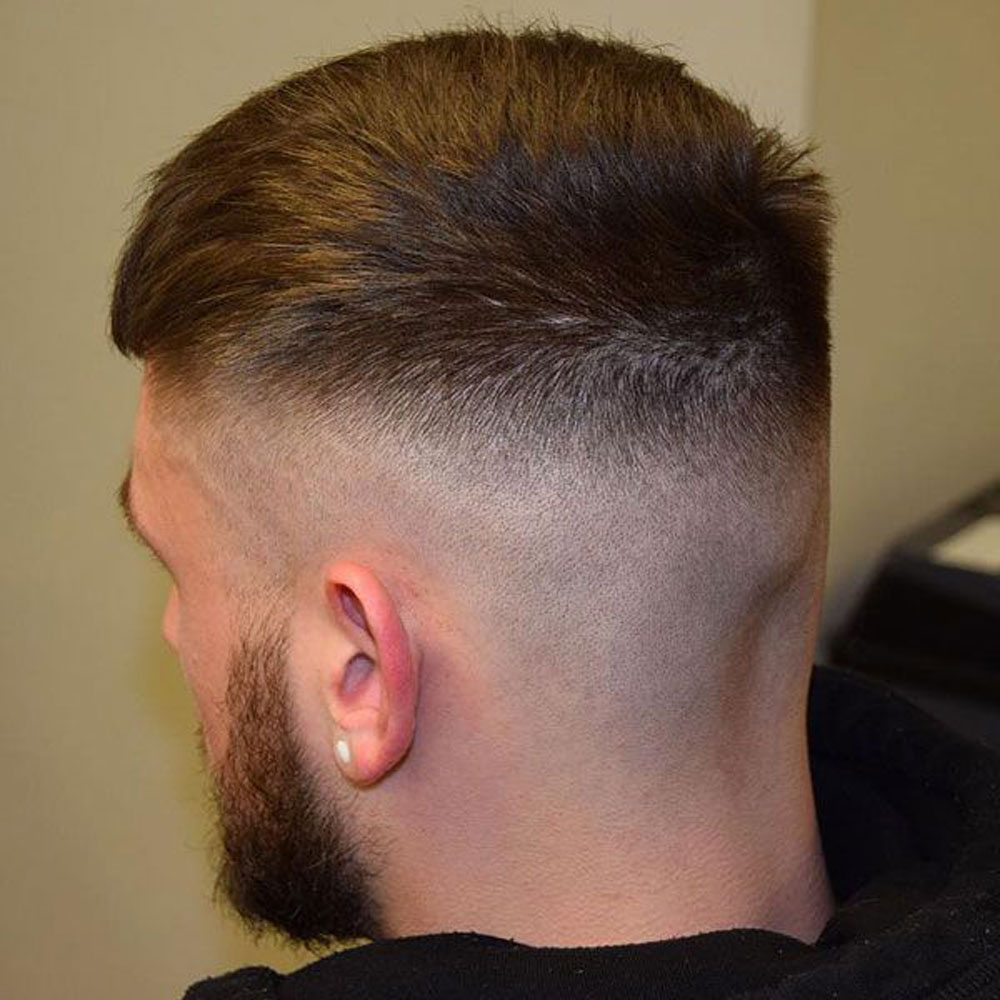 Skin tapers are closer to fades in that the hair is tapered so short that skin can be seen underneath. You can use this to modify a different kind of cut, like getting a skin taper on a high taper.
The Fade
Fades, much like tapers, leave longer hair on top and much shorter hair on the sides and back of the head. The difference, however, is that fades are typically much shorter than tapers. A typical fade will leave relatively long hair on top of the head and then fade into short hair with a lot of contrast, often leaving the scalp exposed the farther down the hairline you go. This cut will give you the cleanest and fresh look out of the two.
But what different kinds of fades are there to choose from?
Low Fades
The low fade is similar to the low taper in that they both take the hair short above the hairline. A low fade can add a lot of style to a regular old buzz cut or crew cut. As with all fades, the change in hair length is going to be more abrupt than with a taper.
Drop Fades
A drop fade is a departure from the classic fade cut, dropping under the ears, and following your head shape as a guide. This cut requires more maintenance as it grows out in order to maintain the same level of contrast that is achieved when it's first cut.
Skin Fade
Known also as a bald fade, skin fades are similar to skin tapers in that they both are cut very close to the skin. It's faded down all the way to the skin above the hairline, leaving almost a bald look on the bottom.
Faux Hawk Fade
Faux hawk fades are cut typically along the sides and back of the head like a normal fade. The difference here is that the top is left extra-long and cut up high to cause an almost-mohawk look. The top of the hair is usually then styled up into a crest on the head, again imitating a classic mohawk (just not so drastic).
Final Thoughts
No matter which kind of cut you decide to go with, tapers and fades will both leave you with a fresh, clean look. While tapers offer less contrast, they also offer a tamer look than the typical fade. Fades are for those men who want to stand out a bit more and are okay with leaving their scalp exposed.
We hope this guide will help you better explain what you want your hair to look like the next time you go to the barber. For barbers who will know how to give you the exact look you want, be sure to check out Kensington Barbers when searching for London barbers. They're the best barber shop in London!